Vision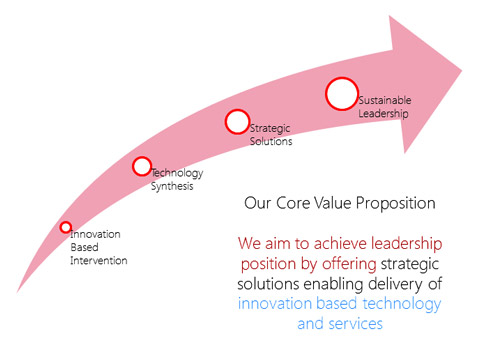 Becoming a Globally Acclaimed Leader in Innovative Software Products & Services
To create a highly motivated, intelligent and competent team of IT professionals who are real assets of the company in knowledge based economy
"INNOVATION IS THE KEY"
Capable of thinking and delivering solutions more than the obvious and much before it becomes obvious.
Mission
To deliver unmatched value to our clients, with unflinching adherence to highest standards of ethics, quality delivery cycle time & service orientation and to create a highly motivated, intelligent and competent team of professionals who are the real assets of the company in the knowledge – based economy
Values
Making technology come alive
At VBSOFT, we take pride in the business we are into. We take technology and make it come alive in such a way that it results into customer satisfaction that's completely real, completely human. All our efforts are streamlined in one direction – to make technology come ALIVE. And in doing this, 5 things form the core our work approach:
AAccessibleLLogical IInnovative VVersatile EEthical
We believe in producing end results that are accessible to clients with ease, logical arrived at, innovative compared to the rest, versatile in application and produced on the foundation of ethics.
At VBSOFT, each of the independent operating application, every single member of the team has been guided by one objective, steered through by one goal:
TOTAL CUSTOMER ORIENTATION
Quality is the Key in our quest for delivering customer satisfaction and Customer's delight. We call the CULTURE - F.R.E.E - Where freedom comes with being excellent and responsive; empathizing with our customers, vendors and colleagues makes us a better organization to be associated with.
To promote and protect the interest of all stake holders -
Customers: Provide cost effective quality products and services on time and be a preferred vendor of choice for their IT requirements.
Employees: To provide a working environment that fosters the spirit of innovation, commitment and creativity leading to individual's and organization's growth.
Vendors: To be a preferred customer to our suppliers.
Investors: To provide healthy returns to their investments.
Community: To be a good corporate citizen driven by transparency and contribute to the community development and enhance lives of people.