Kisan eSetu - Pilot Project in Kathwada and Billasia
As most of the Indian farmers with small land holdings tend to do farming traditional way, not based on best practices or scientific techniques, they need to fight incessantly against natural adversities to grow grains and other agricultural products. Their farming methods are prone to hazards arising due to atmospheric & land conditions, production techniques and attacks of pests & insects etc.
With a view to mitigate farmers' problems, a pilot project of Kisan eSetu was instituted on trial in Kathwada and Bilasia villages near Ahmedabad in April 2007 under the Aegis of Ahmedabad District Collectorate. The objective was to improve farming practices and increase the crop-yield. The solutions covered subjects like soil conditions, sowing seasons, weather condition, timely disinfecting and specific query related solutions.
A service facilitator (Field Agent) was equipped with a Windows based mobile device, through which, solution to the farmers' problems were offered at their doorsteps. The PDA was connected to a central knowledge delivery management system, which in-turn, was connected to the scientific community.
The facilitator was required to photograph symptoms of the problem, a farmer faced with his crop and send the problem text & images online to concerned Scientists/Professors at GujaratAgriculturalUniversity at Anand (See Pics). Other details like farmer's name, area in which crop was sowed, whether the land had irrigation facility or not, was also sent.
On receipt of the solution or further query, the facilitator informed the farmer accordingly. The system also provided facility of a knowledge Bank for facilitator to answer farmers' FAQs locally.
Kisan eSetu - Key Findings
The key findings that emerged from the trial run are:
Kisan eSetu is able to bring in near real-time communication system to the farmers by integrating all the stakeholders of the process on to the same communication platform
The sluggishness in the old system is reduced by enabling solution providers to promptly respond to the distress calls from the farmlands
The prompt response effectively leads to containing the losses which would have otherwise occurred due to non-availability of timely advise (The system reduced solution turn-around-time from existing 10-15 days to mere 2 HOURS).
The system is able to offer a platform to farmers for sustainable development and risk management in farming system.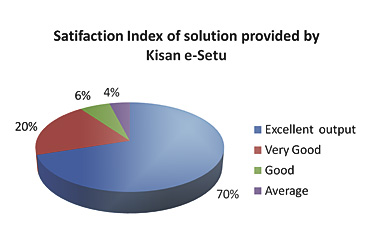 Kisan eSetu - Field Survey Report
A post-implementation opinion survey on the trial results was conducted among farmers of Kathwada and Billasia villages. The sampling was done on random basis to cover maximum usage area to ensure even distribution.
Steps for the future
The experience and sustainability factor could be made available to other farmers in different regions/ states by creating a global pool of scientific community in various faculties to increase scientific knowledge base and disseminate best farming practices to farmers.
Kisan eSetu - Application Snapshots
Problem reported for farmer, Shri Ramesh Patel on 19th April '07 and Solution provided on the same day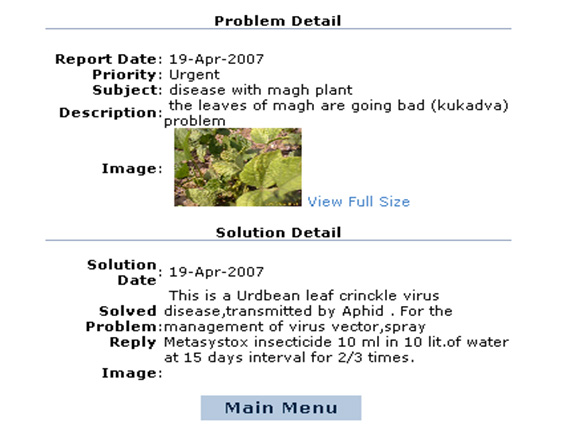 Image for the problem reported on 19th April '07 concerning disease with Magh plant