CNGNet
Enterprise solution for CNG Retail Management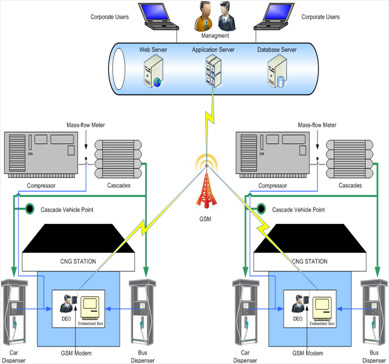 In today's highly competitive market, retail outlets for CNG gas need not only comply with safety regulations but also meet customer expectations, viz., Quality, Accurate Quantity, Speed of Service, Convenience and Prompt Billing & Payment options etc.
Such expectations place immense pressure on the organization and warrant robust business drivers. Each organization needs gear up its system tmeet the customer expectations, make fuel available at retail outlets 'Always Available', handle different types of customers - cash, credit or company/corporate, monitor each filler attendant, monitor sales & collections - individual as well as total sale, and monitor stock at each station etc.
At the same time, management must ensure safety; collect customer data tenable them formulate effective marketing strategies and create uniform experience at stations that will help in branding their offerings.
CNGnet is an end-to-end retail solution developed by VBSOFT for CNG Retail Outlets - from forecourt to back office operations. It is a solution that helps you serve your customers efficiently, provide shopping delight and increase their loyalty.
It automates data collection from all POS at a station to a 'Station Server'. In turn, the servers of all stations are networked to a 'Central Server'. From the Central Server, you can monitor sales & stock position at all the stations, manage supply chain for the gas, and also create trouble tickets.
The key benefits that accrue tthe gas retailing organization are:
Efficient Fuel Management
Enhanced Retail Information
Better Maintenance Management
The customers benefit by better and efficient services and quality & quantity assurance.
CNGnet is a safe and cost effective end-t-end retail fuel distribution solution that
Automates
Fuel & Non-fuel Areas
Binds
The Customer
Maximizes
Efficiency
Increases
Revenues
Minimizes
Losses & Down Time
Faster
ROI