SmartServe
Municipal Service Delivery System
The Municipal Service Delivery System "SmartServe" is a web based enterprise solution that allows ULBs enhance citizen satisfaction through comprehensive service management, efficient service delivery with minimum costs.
SmartServe automates enforcement of SLA policies and streamlines and automates every process from initial citizen request to resolution more efficiently and cost effectively.
A citizens can lodge complaints on a single telephone number, where a call center operator registers a complaint with all due details. A caller can lodge single or multiple complaints during a single call and he/she is given complaint number(s) accordingly.
"Once a complaint is registered with the system, it is assigned to a concerned area officer dealing with the problem. The system automatically sends an SMS to officer alerting him on the complaint. The officer calls up the complainant and co-ordinates with him on the problem.
The officer needs to resolve a complaint within a specified SLA period. Once a complaint is resolved, the officer closes the complaint on his log form (online), an SMS will inform the complainant immediately and seek his opinion. The citizen is not satisfied; he/she can start off the entire process by calling up the call centre".
If the complaint is not redressed within a fixed number of hours, the system shoots off SMSes to officers above the area engineer and finally even tthe concerned deputy municipal commissioner.
Ahmedabad Experience:
More than 700 SMSes flooded Ahmedabad Municipal Corporation (AMC) in 47 days since its launch on August 20, 2008 in the new west zone (NWZ), chosen for the pilot project of this system. The SMSes came from the citizens wishing to resolve their municipal problems by the new SMS interface based Service Delivery Management system.
The most common complaints pertained to malfunctioning street lights, Dug-up Roads, Overflowing Drains, problematic water supply or garbage collection etc.
With their performance allowance linked to quick complaint redressal, the municipal officers were duly motivated to resolve the complaints within specified SLA periods.
A simple call on a designated phone number regarding any civic problem in the New West Zone area will make the concerned engineers and officers responsible. Many citizens in Satellite, Prahladnagar, Vejalpur, Bodakdev have used the system for lodging their complaints.
The AMC has recorded the highest number of complaints on streetlights, followed by sewerage, garbage disposal, public hygiene and dead animals. This service has a new category, in which citizens can call in report illegal tree felling in their area.
Benefits
Improved communication between the officer and the complainant helps in pacifying the complainant.
The software helps authorities in reading the pulse of people as to what they are actually worried about and nature of their frequent complaints. This would help authorities prioritize on their services.
Authorities can view a detailed report on the actual response time taken by its team to resolve problems, which will help them assign adequate manpower ta particular zone/area.
Complaint Modes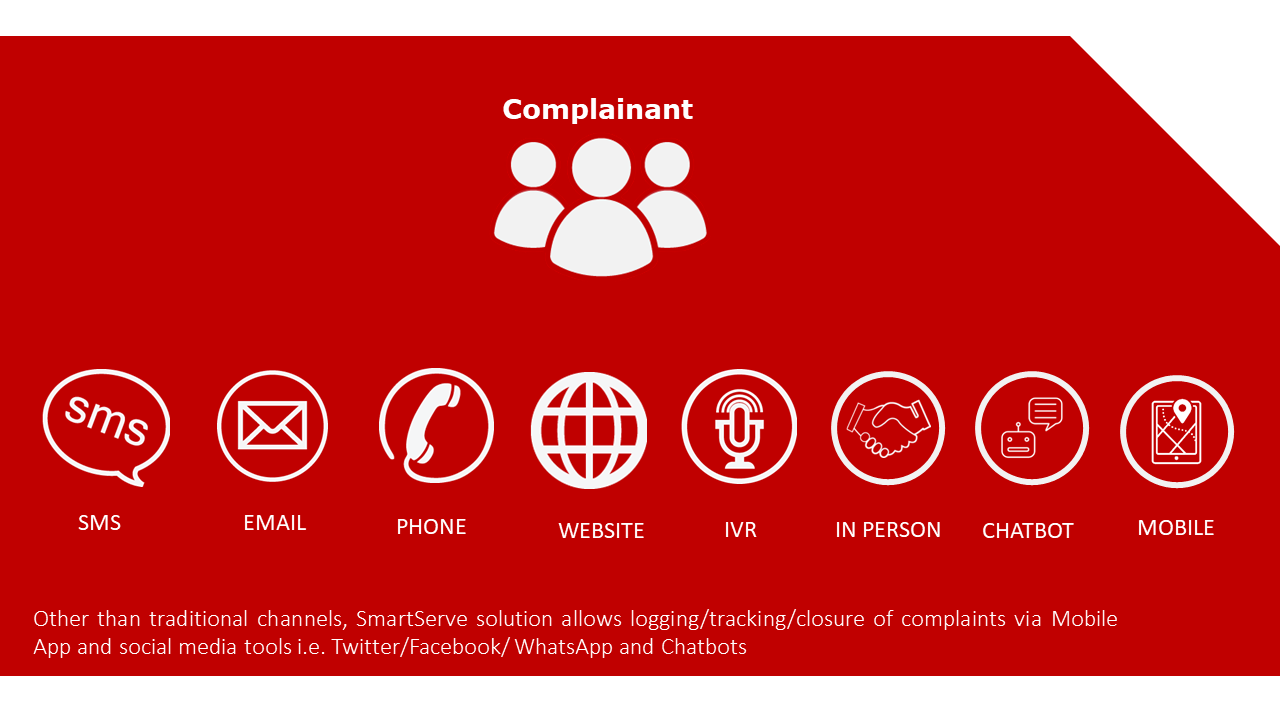 Complaint Flow via Phone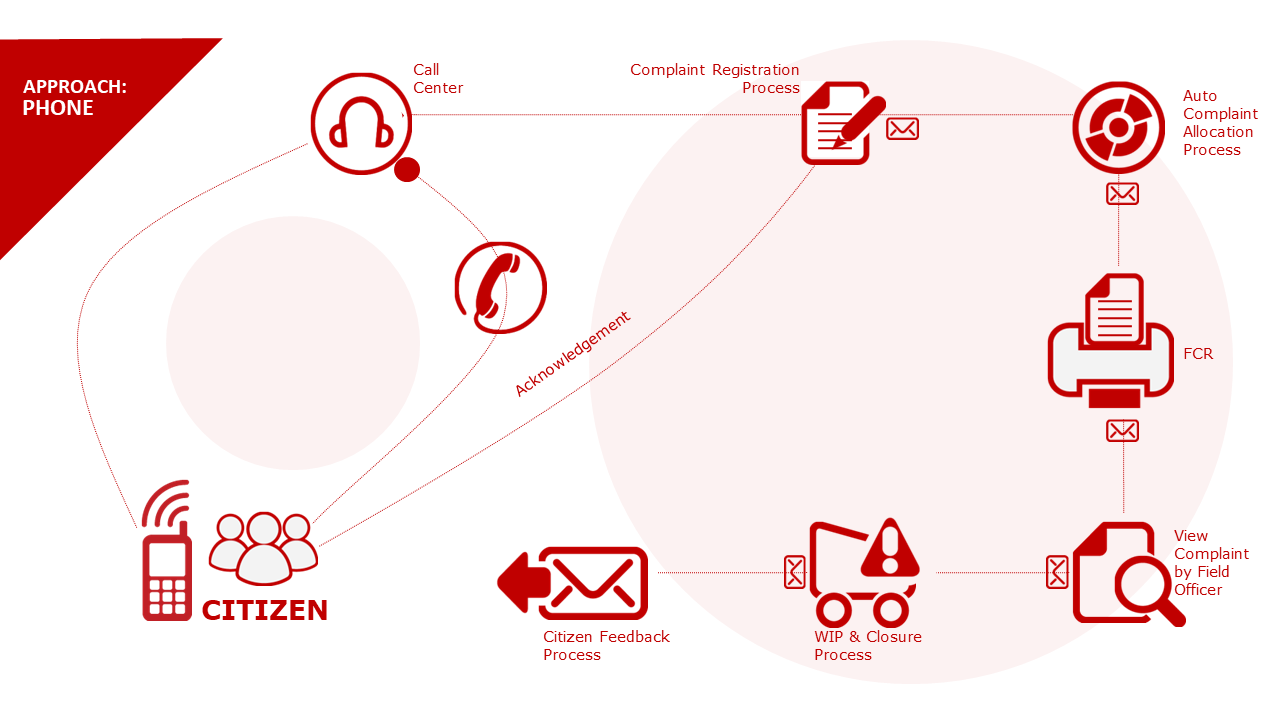 Complaint Flow via bot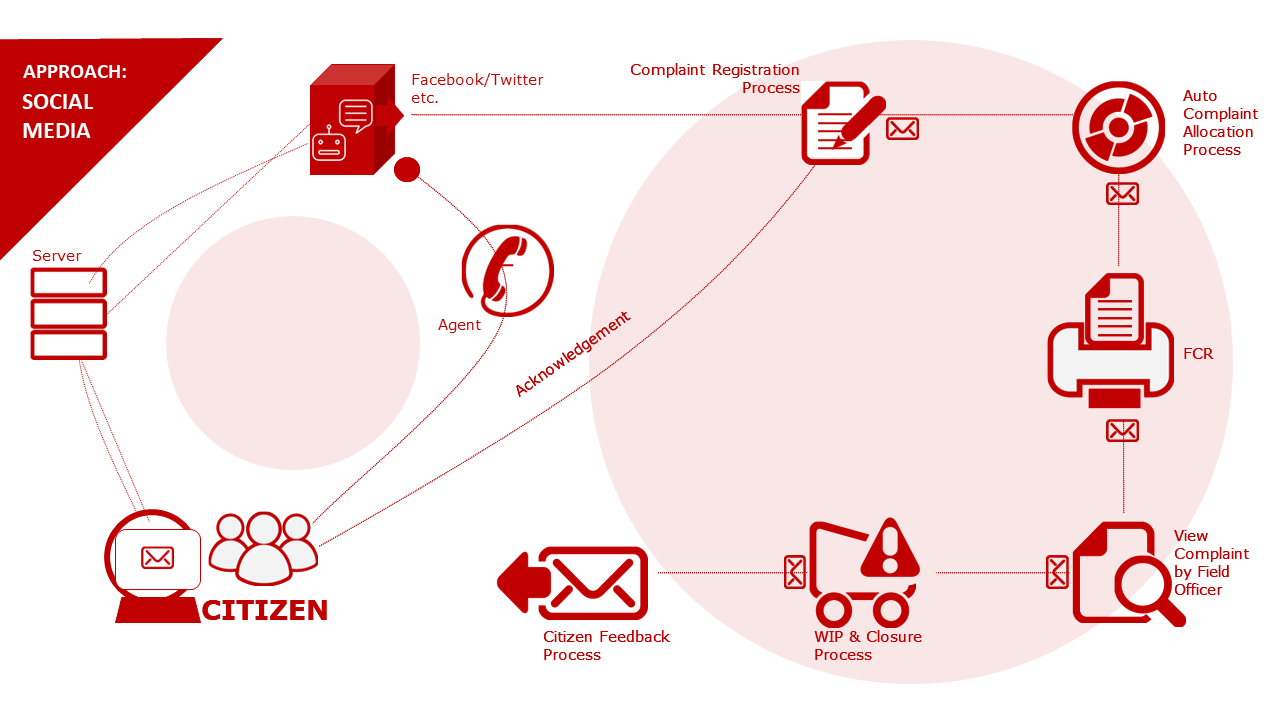 How "SmartServe" Works at Ahmedabad Municipal Corporation?
Complaints Registration
A citizens can lodge complaints on a single telephone number
A call center operator registers a complaint with all due details
A caller can lodge single or multiple complaints during a single call

Caller is given complaint number(s) accordingly
Call Registration Screen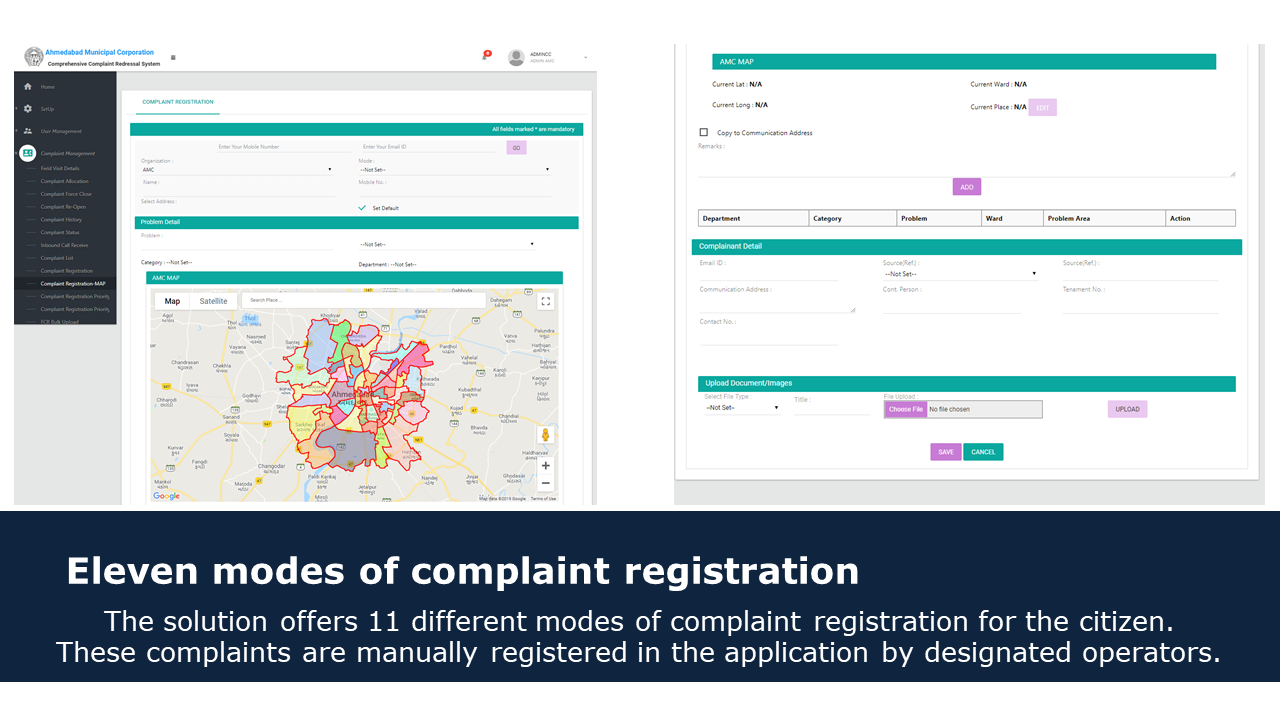 Assign complaints
Once a complaint is registered with the system

it is automatically assigned to a concerned area officer
The system sends an SMS to officer on the complaint
Web Based Enterprise Solution for Citizen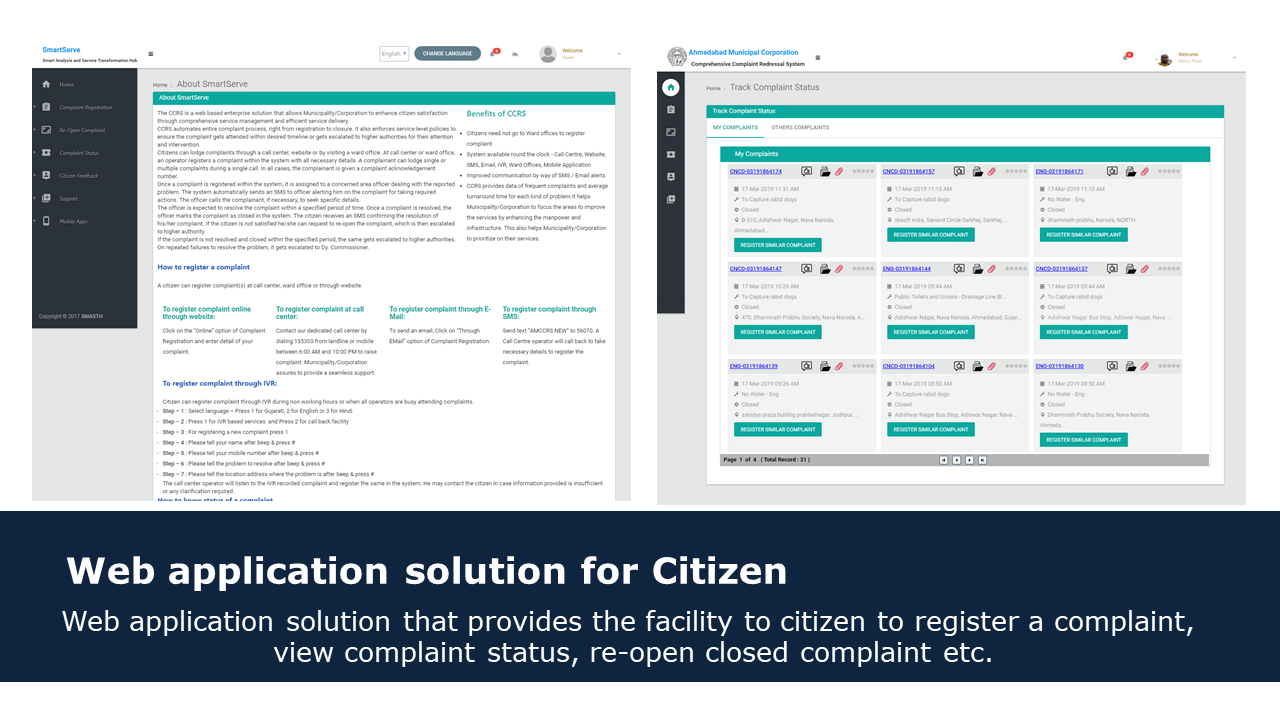 Web Based Enterprise Solution for Officials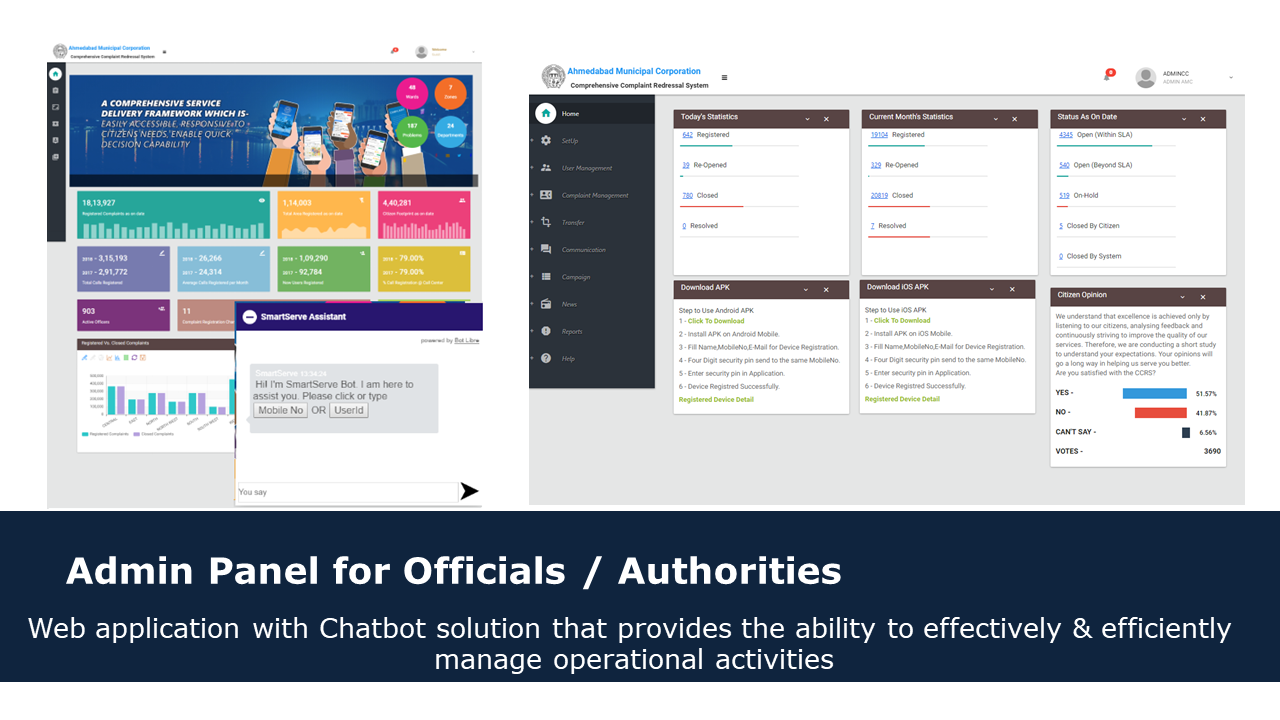 Pending Complaints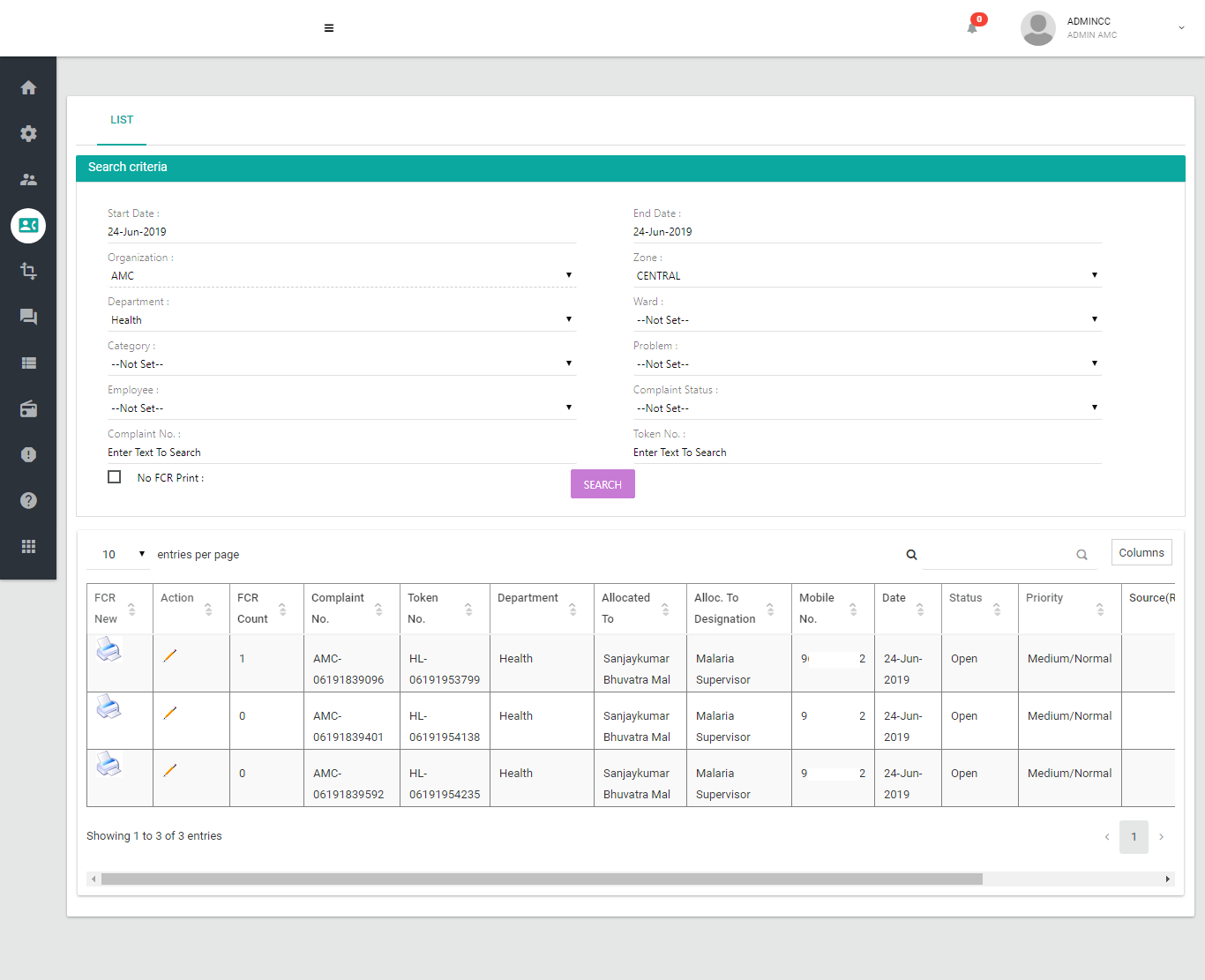 Complaint resolution Process
The officer calls up the complainant and c-ordinates with him on the pr
The officer needs to resolve a complaint within a specified SLA period
Once a complaint is resolved, the officer closes the complaint online
An SMS informs the complainant immediately

If not satisfied, citizen can re-start entire process by calling up

If the complaint is not redressed within a fixed number of hours

system shoots off SMSes thigher officers
finally even to the concerned Dy Commissioner
Call Closure Screen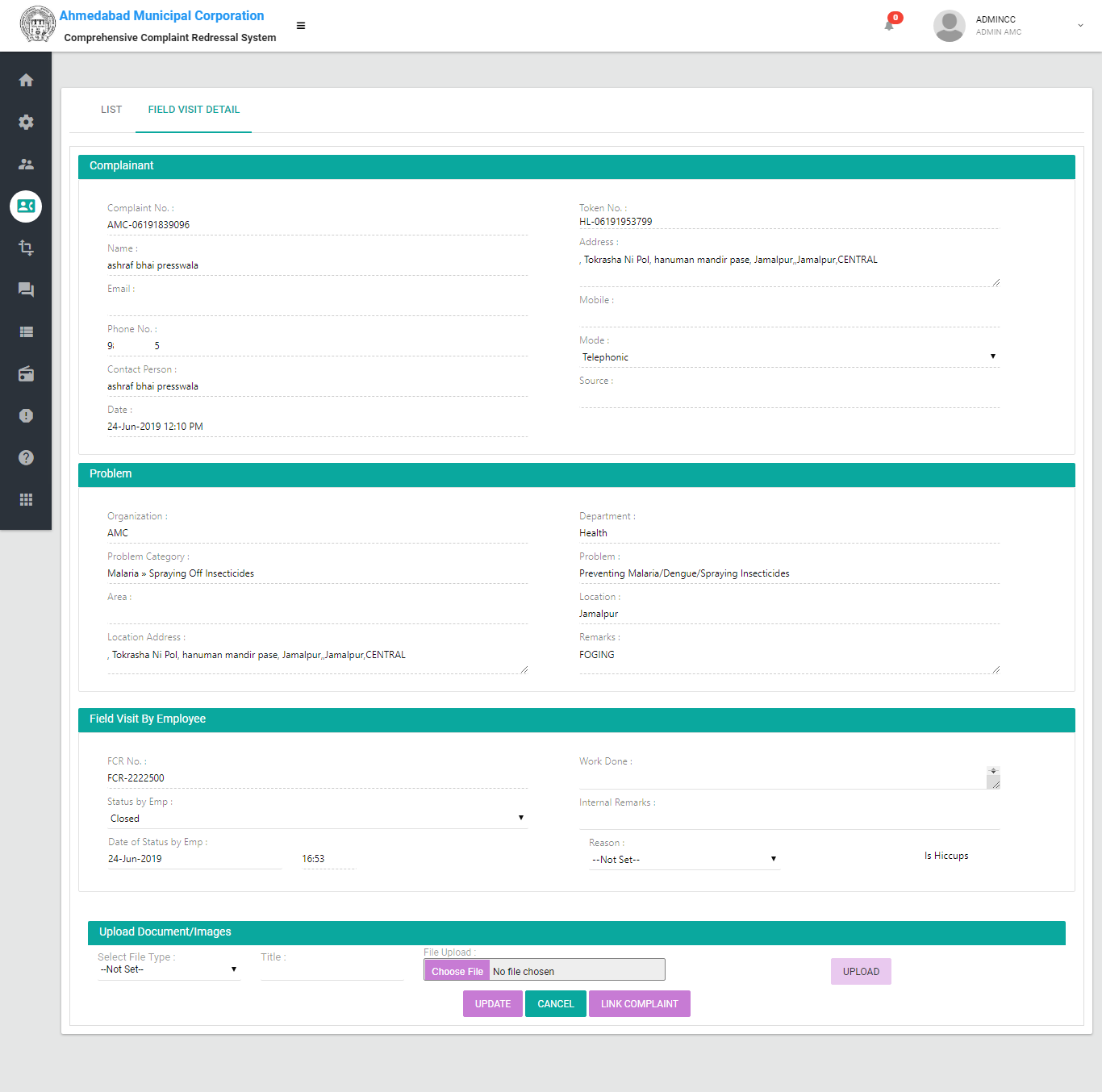 Call Status Reports
Calls open / transferred
Closed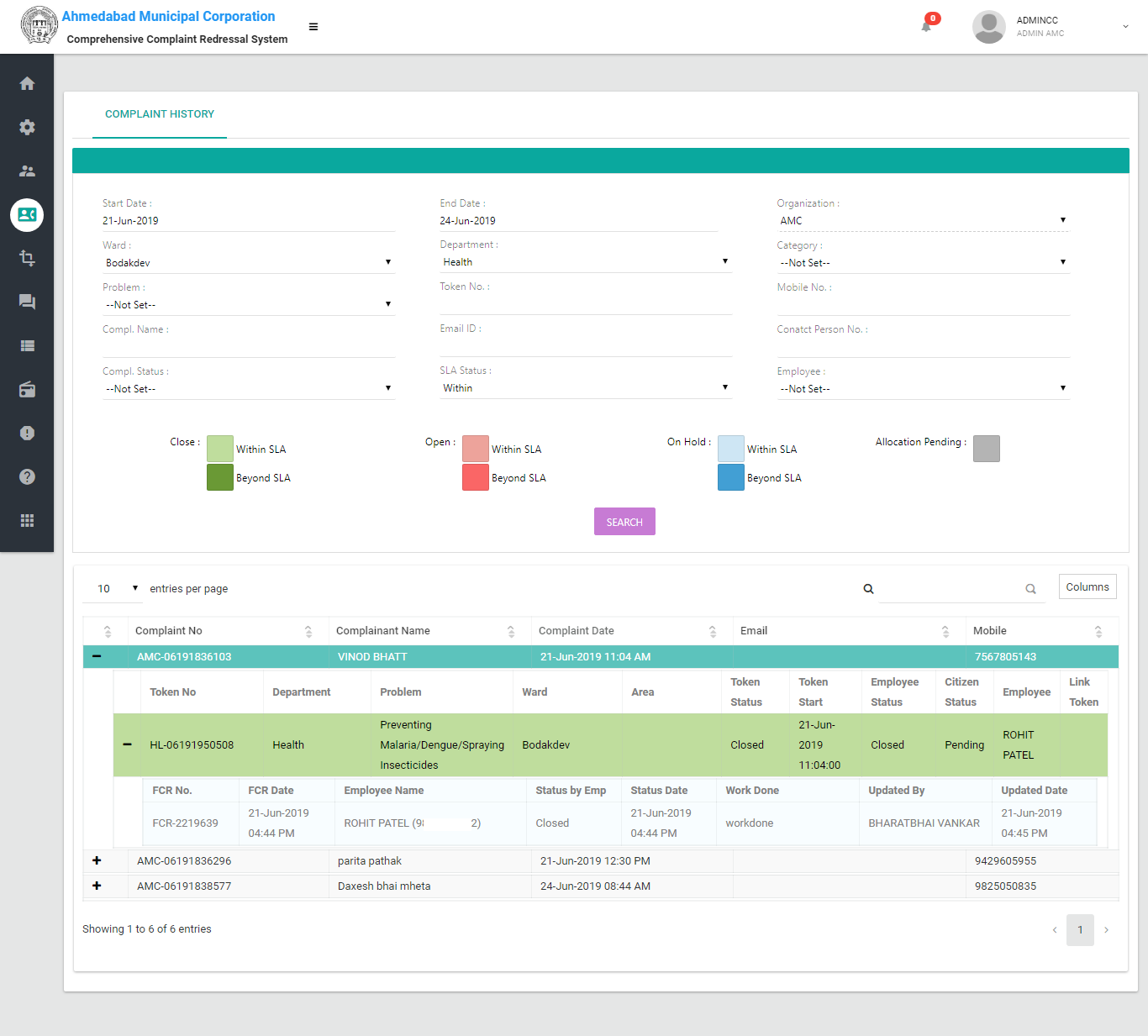 Typical Dashboard - Tabular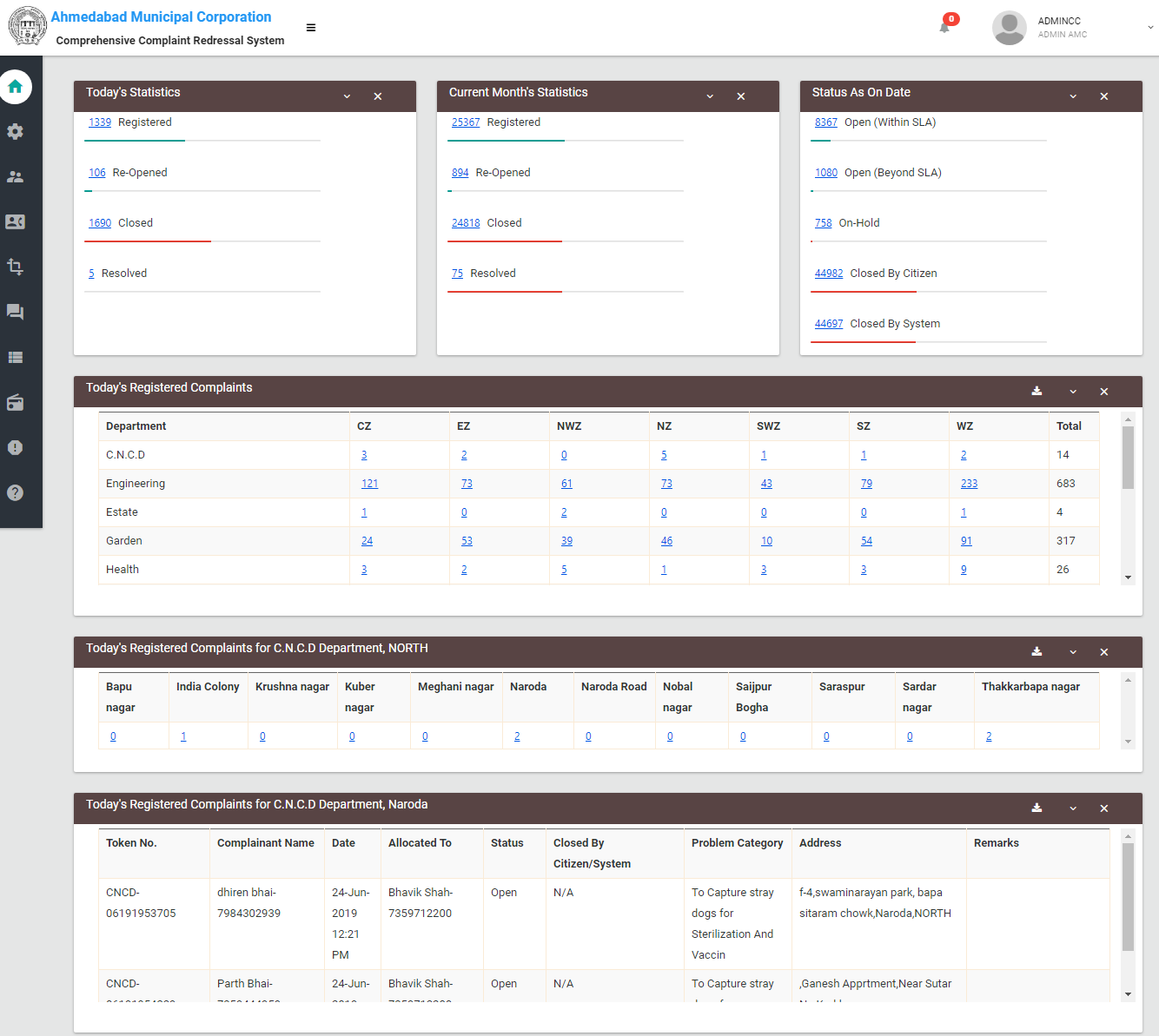 Typical Dashboard - Graphical (Decision Support System)
Citizen Mobile App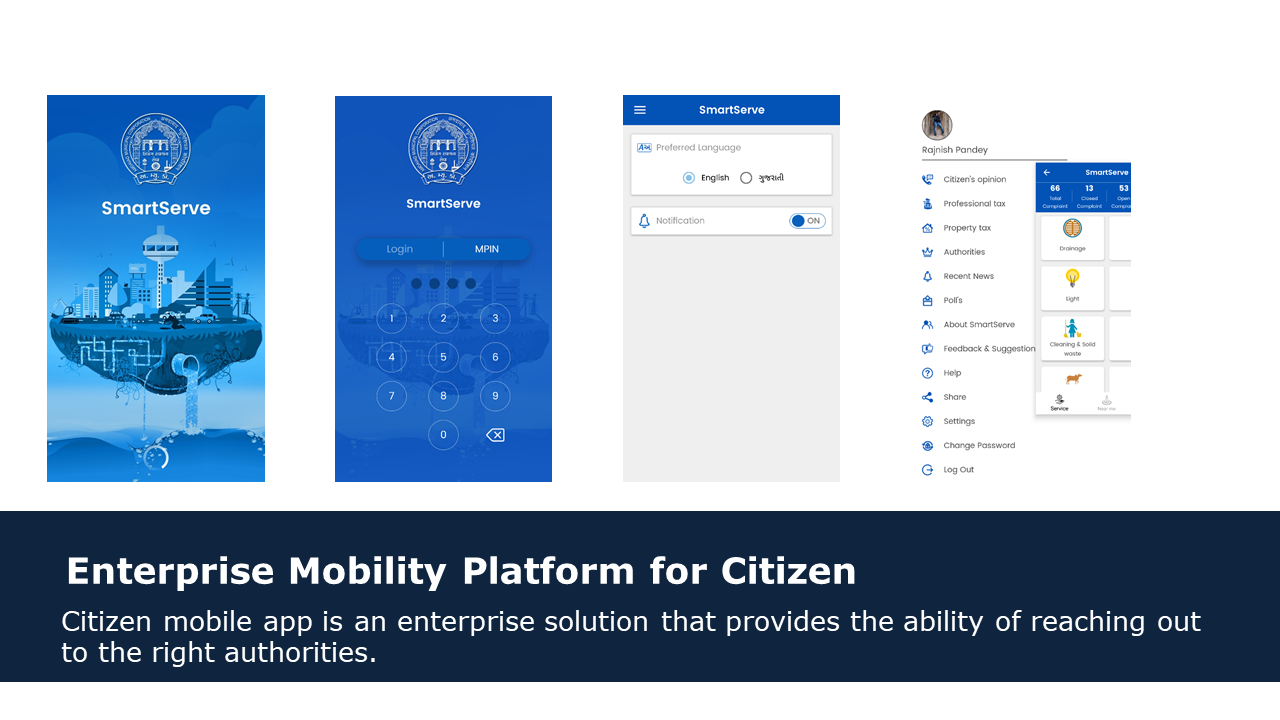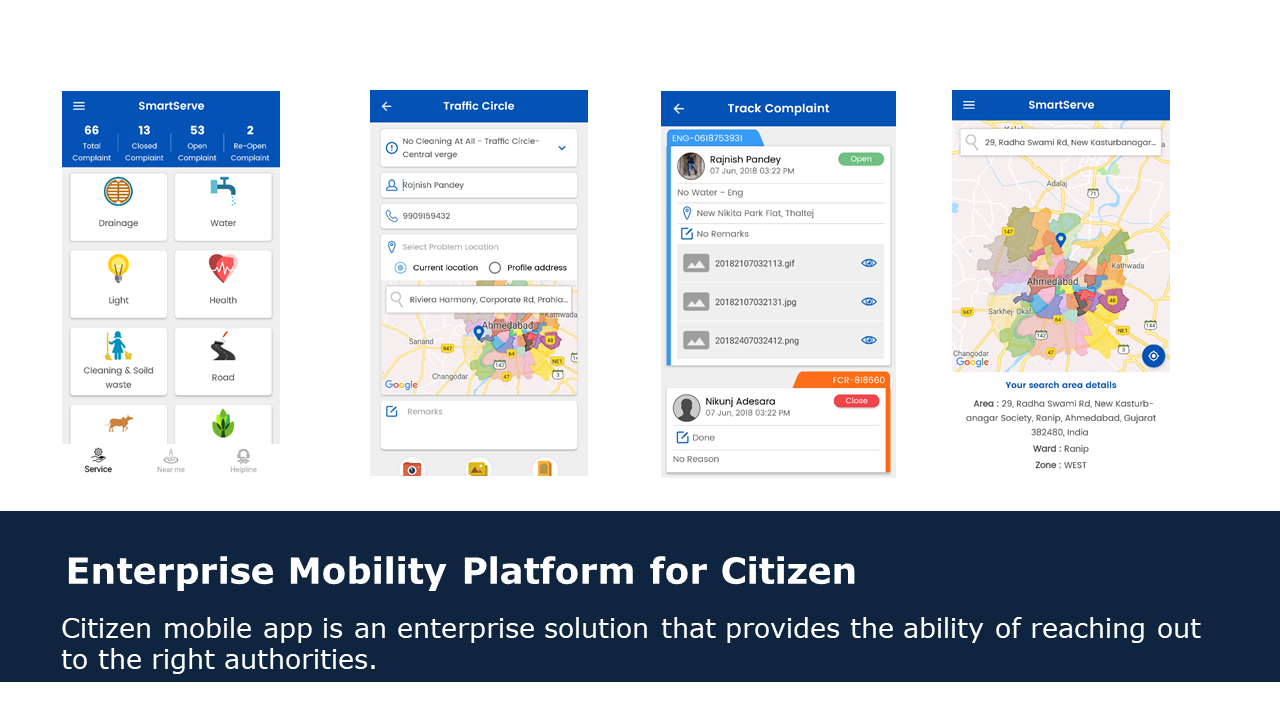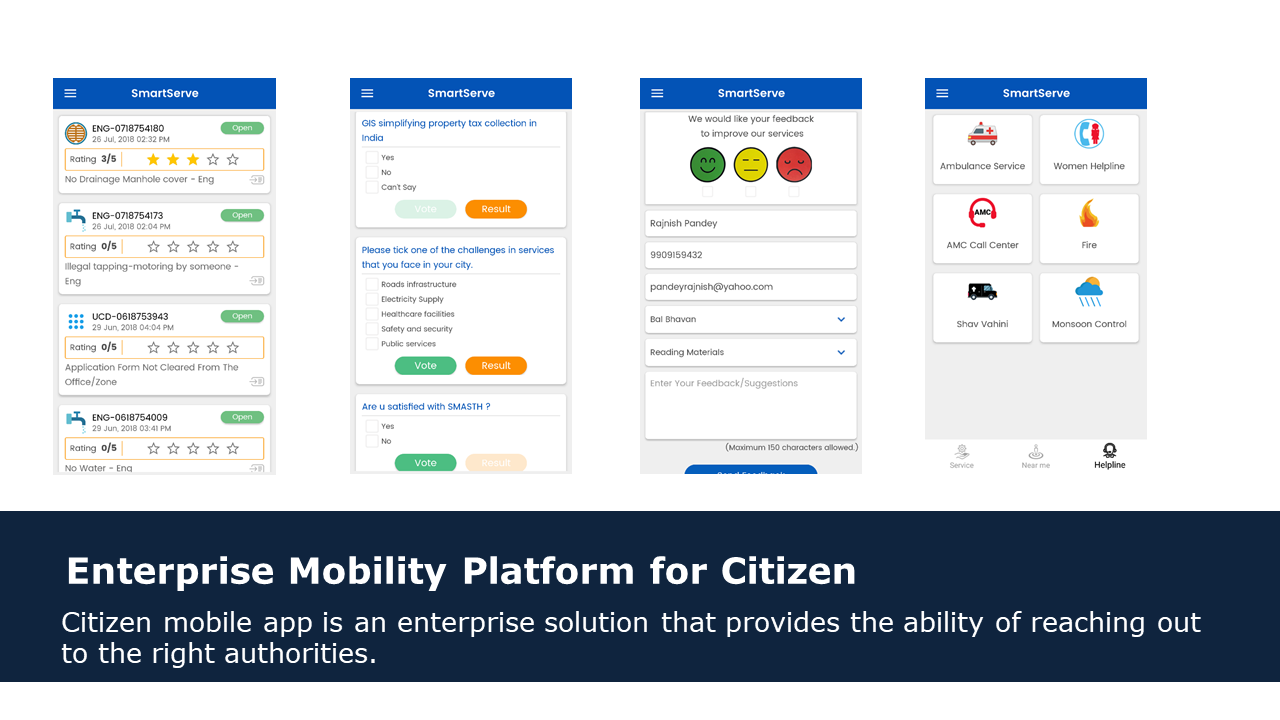 Officials Mobile App