Onion Export Management System (OEMS)
Gujarat Agro Industries Corporation (GAIC) is appointed as exclusive canalizing agency for Government of Gujarat, India, to promote exports of Onions from Gujarat by providing streamlined export strategies.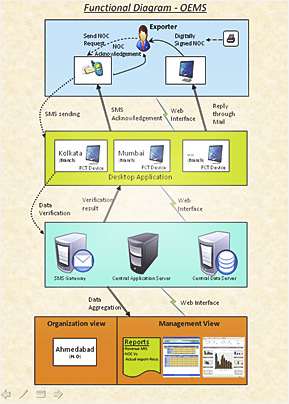 Any entity desiring to export Onions is required to register as Associate Shipper with any branch of GAIC, and obtain a No Objection Certificate (NOC) for each export consignment. GAIC advises exporters on Minimum Export Price fixed by a committee constituted by the Government.
VBSOFT's Onion Export Management System (OEMS) is a comprehensive online, web-based solution that allows GAIC to receive applications for registration and NOC online or through SMS from mobile phones.
An organization can apply for registration online or download policy and application forms and submit manually. The application and documents thus received is then verified by concerned GAIC officer against standard checklist. If documents found proper, an Associate Shipper Registration Number is generated and applicant intimated of the same through SMS. Similarly, the process of application and issue of NOC can also be managed.
The system facilitates improved communication between GAIC and Exporters. Authorities can view detailed status of Registration & NOC applications and other details and put in motion required corrective measures. OEMS allows maintenance of Post-NOC /Compliance Documentation and Procedure Management.
Key Benefits
OEMS would facilitate proactive decision making in service management
The software helps administration to monitor the status and prioritize on action plan and put corrective measures in motion.
Improved communication between officer and the Applicant
Authorities can view a detailed report on the actual status of application for NOC and all the details pertaining to the Onion Exports
International Publications
2011 Malaysia
2008 IDRC DAVOS, Switzerland
Kisan eSetu, an ICT based Tool for Risk Management for Sustainable livelihood for farmers in India
2008 IAIA08 Perth, Australia
Kisan eSetu, An ICT based Tool for Risk Management for Sustainable livelihood for farmers in India
2007 IDRC HARBIN, China
Risk Mitigation through Measurement of Safety Compliance in Built Environment and Establishment of Vulnerability Atlas - Published in IDRC International Publication 2007
2006 IDRC DAVOS, Switzerland
Risk Mitigation through Measurement of Quality Compliance in Post- Disaster Reconstruction and Establishment of Vulnerability Atlas Published in IDRC International Publication 2006