Data & Analytic Solutions
Scenario
Massive amount of data across businesses has hurled new challenges for the companies to manage this data. Management of this data is important and relevant today because much of the information about various aspects of business comes from both structured and unstructured Data. Companies key ask from technology companies is to help analyze the trend from the data so that they can fine tune their offerings to compete in large market space by addressing key consumer want.
Enterprises today expect real time analysis of the data and application providing reports which could enable companies taking informed decisions. However with the increase in volumes of data, systems are facing serious problem correlating data:
Increase in records: Number of records/Tables in database is increasing as companies are trying to capture real time data with number of observed parameters increasing.
Data Quality: Reliable data source is another challenge which organization are facing
Low Latency for real time data
Multiple data sources: Source of data collection has increased
How Data Analytics can help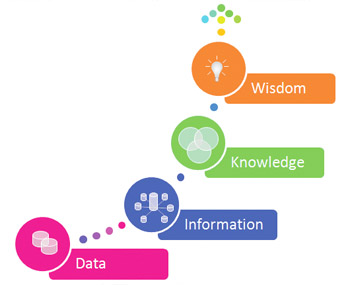 Data is raw and has no significance beyond its existence. Information propels business and extracting this information from data is what most of the enterprises are looking for. Definitely it doesn't end here. Synthesizing correlated information, evaluating and organizing, and optimizing this information brings knowledge to the organization. It is cognitive and analytical and brings tremendous value to the enterprise. It helps enterprises take informed decisions. But informed decision in this age of information explosion may not be enough. Intelligent decision is the need of the hour. Going beyond knowledge and building an extrapolative and non-deterministic, non-probabilistic process on top of it gives the shape to wisdom and helps enterprises really derive value from the data and translate in to successful business. The journey from data to wisdom is long and needs years of effort, hard work and focus. Technology definitely has a big role to play in the every step in the process.
Data Analytics can help organizations to design processes and activities to obtain information from the data and give an insight into various parameters of business like consumer behaviors, risk, frauds etc. It can help enterprises in improving business efficiencies, verifying process effectiveness and influence business decisions. It stimulates better ROI and drives business to achieve several milestones.
What we offer
VBSOFT provides solutions that can take an organization to the next level of insight and competitiveness. We help organizations make intelligent business decisions. The range of services and solutions that we offer for the ecosystem are:
ETL Service:
ETL process involves extracting the data from different source systems. This data is transformed by going through the process of cleansing, reformatting to meet expected structure and pattern, standardizing or by applying any number of business rules. It is then loaded into Data warehouse.
Data warehousing:
The all-important data is housed in a data warehouse and forms the basis of Analytical systems. Database sizing and profiling is done depending upon requirement from an enterprise.
Business Intelligence:
This is the interface of an analytics system which is responsible for running algorithm on data that gives all kinds of results which can be rational and probabilistic and at the same time it can give outputs which are extrapolative and non-deterministic which enable the organization take intelligent decision.
Dashboards:
Depending upon position or requirement of company, customized reports could be produced which gives real-time insight at all levels, draws attention to the strengths and weaknesses of the organization. At the same time, it allows organization to have preparedness for any forthcoming threats or opportunities.